Installer Image for Fleet Installations
For installation on bare metal (64-bit Intel/AMD CPU) an installer image can be created in SmartWorks Studio. This installer image can be used for all assets of the fleet.
The image contains the OS, K3s and scripts to create a new cluster on the cloud and install the ECP at first boot. Each new asset of the fleet will automatically show up in Studio.
The installer image needs the Client ID and Client Secret of an App (see
Apps
) with the "cluster" scope. It is recommended to create a new App specifically for this purpose.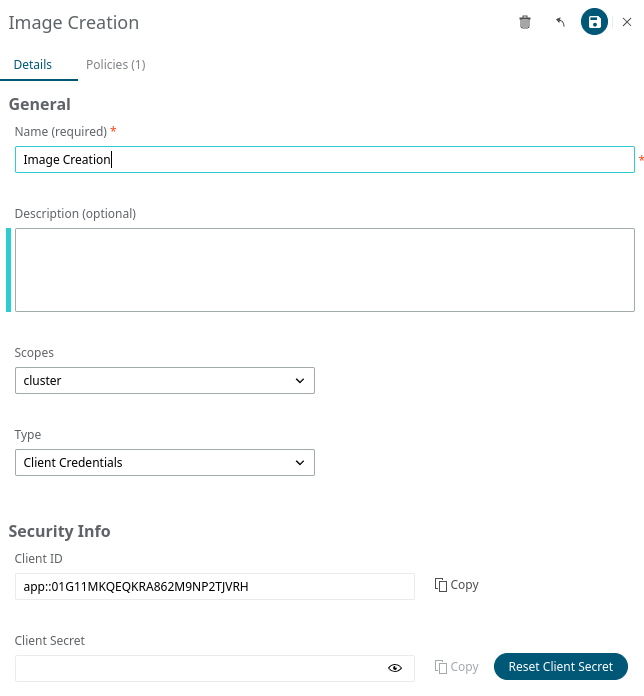 Follow the steps below to create a new installer image.
From the menu on the left, click .
Click

Add

in the upper right corner.

Select the desired software option from the dropdown, fill in new user credentials for local access to the cluster and add the fleet identifier. If an existing fleet identifier is reused any asset flashed from this installer image will be added to that fleet.





Figure 2.

Once the installer image has been created (this takes a few minutes) it will be available to download.

Use either the pre-installed "disk imaging" utility on your computer or download balenaEtcher to flash the downloaded image onto a USB drive (minimum size 2GB).

Note:

The USB drive should now be used to boot the asset (gateway) from.

When the installation process finishes the gateway will power off.

Power on the gateway to bring the asset online in Studio.
Software Update
When a software update becomes available for an asset created from an installer image, it will be shown on the Edge Ops > Fleet Management > AssetOverview and Details panes.
Clicking the
Update Now
button will install the update. Note that this process can take up to 15 minutes for large OS updates.